CONGRATULATIONS TO ONE OF OUR 2015 SCHOLARSHIP RECIPIENTS, JOSEPH  MUELLER, 2019 MIT GRADUATE!! 
He will be receiving his Bachelors degree in Electrical Engineering and Computer Science, with a minor in Physics.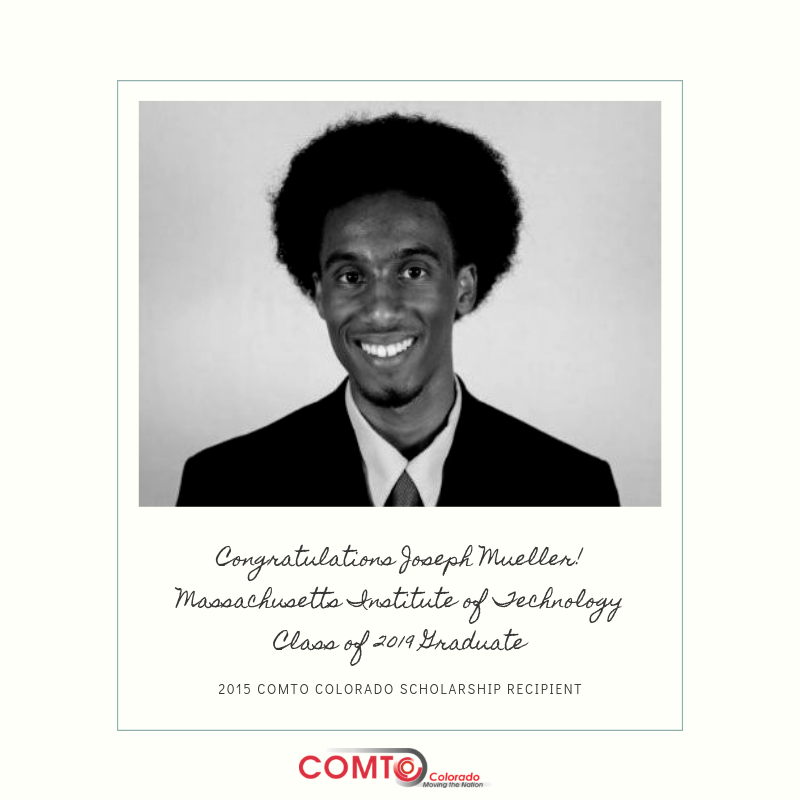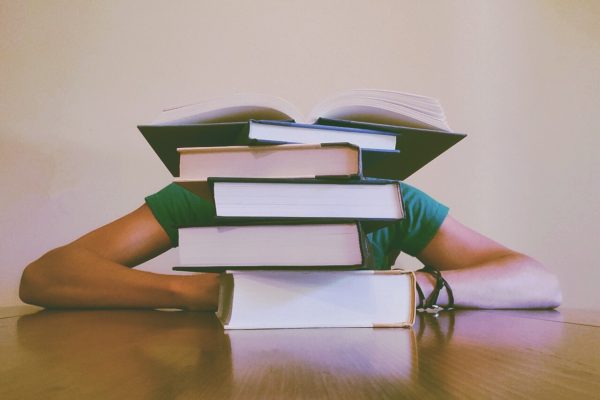 This section is dedicated to our students to share helpful resources available in the community. Here you will find internship and job opportunities as well as updates to our annual scholarship program. 
COMTO National Scholarship Program – Application Deadline May 22
COMTO's National Scholarship Program supports our strategic goal of ensuring the continuing legacy of minorities in transportation.The organization awards $100,000 annually in national academic scholarships to minority graduate and undergraduate students from across the country. Scholarship awardees are represented in all academic backgrounds and pursuing various careers in the transportation industry. 
COMTO Chapters collectively award close to $500,000 annually in academic scholarships to local applicants.   
General Requirements: Scholarship awards are distributed directly to the awardee's academic institution. Applicants must be enrolling at an accredited college, university, or vocational/technical institution for the coming fall academic term. 
National Scholarship Timeline
Application Open: 

April 22, 2019

Application Deadline:

 May 22, 2019

Applicant Notification: 

June 12, 2019

National Scholarship Luncheon:

 Tuesday, July 16, 2019 
For full details and to apply go to: 
https://www.comtonational.org/page/scholarshipapp
Denver International Airport
Denver International Airport (DEN) has 22 summer internship opportunities. They are looking for current students in business, engineering, construction management, air traffic control, aviation, and several more areas of study to experience this incredible opportunity at the largest and newest commercial airport in the United States.
The internship positions will be posted on City and County Denver jobs board, 22 positions:
https://www.denvergov.org/content/denvergov/en/denver-human-resources.html
Denver Water
The utility tech position requires a high school diploma or GED. This would be a wonderful opportunity for someone that might want to join the workforce instead of going straight to college. Denver Water provides an educational stipend of over $5k per year so this might be attractive for recent high school grads looking to offset some college expenses. Denver Water benefits summary attached. More internships at Denver Water's career page: https://www.denverwater.org/careers
Here is a list of some of the jobs DW is hiring.
Communication Intern
Construction Management—2 positions
Corrosion Control
Hydraulics Intern—3 Positions
Water Rights Protection Intern
*Utility Technician—This is not an internship, but would be a good entry level position, 19 people to be hired for this role.
 The candidates need to go to the career page, link above to read the qualifications, and to complete the application. The typical pay range for the internships is $15-$25 per hour. Most internships are 40 hours per week.
 Story about one intern's experience working at Denver Water: https://denverwatertap.org/2019/01/14/from-intern-to-denver-water-pipe-saver/
RTD Diesel Technology (DTECH) Training
Be a part of an exclusive group of students, hand-selected by RTD, to participate in a hands-on Diesel Technology Training Course offered in cooperation with Front Range Community College.

And, upon completion of the course with at least a 70% pass rate, you will be guaranteed an opportunity to test and interview for a full-time position with RTD*.
Here's What You Need To Do
Applicants will be selected by RTD using the following criteria:
Students must have a GED or a high school diploma.
Students must be a second-year automotive student and a graduating senior.
All applicants must have experience in the following:

Basic Electrical
Automotive Systems
Foundation Brakes
Gasoline Engines
Complete the online application
Include a letter of reference from your instructor (if you are a student) or a resume showing your automotive background with your application.
Submit the application and reference letter or resume by 4:00 p.m., Friday, May 3, 2019.
Latino Leadership Institute – Youth Leadership Camp
In partnership with the Denver Broncos, the Latino Leadership Institute at the University of Denver is launching a Youth Leadership Camp to inspire Colorado high school and college students around leadership, volunteerism, and community engagement. Students will receive a gift bag, complimentary lunch and a once-in-a-lifetime experience at the Broncos stadium.
The day includes a luncheon with a keynote speaker and a panel of previous Colorado Latino Hall of Fame Inductees.
WHO:
100 rising high school juniors, seniors, and college freshmen from throughout Colorado will be selected from an application process.
WHAT:
Selected students will attend breakout sessions on the following topics:
Leadership
Financial Literacy
Community-building & Philanthropy
Emotional Intelligence
*Leadership camp is free for selected students
WHEN:
Wednesday, June 26 from 11 AM – 4:30 PM. 
Afterward, participants also have the option, along with one parent/guardian guest, to attend the Colorado Latino Hall of Fame Inductee Reveal Event at the stadium beginning at 5 PM.
WHERE:
Broncos Stadium at Mile High
To Apply:
Visit the link below and complete the short online application, which includes student information and one short answer essay question (750 words or less). The application is now open and will close May 20. Selected participants will be notified by June 1.
Denver Public Schools – ACEConnect Career Engage Internship Program
ACEConnect is both a CareerConnect pathway and complementary program providing additional or tailored services to prepare students identified as special populations in Career & Technical Education to be successful in career and life by ensuring that they are workforce-ready. Students may choose to enter any industry, and ACEConnect helps them to build the work habits,  as well as the collaboration and technical skills that align with their chosen career and industry focus.
ACEConnect is a programming & service partnership between CareerConnect and the Division of Student Equity & Opportunity to ensure options for effective career and college preparation are available and accessible to ALL students in Denver Public Schools  – Click to Explore
ACEConnect CareerEngage Internship Program
All DPS 11th and 12th grade students with identified disabilities (on an IEP or 504 plan) can apply for a paid internship through ACEConnect in their Fall, Spring or Summer Semester. Ask your student's Special Education case manager, 504 coordinator or ACEConnect teacher to find out how to apply for a CareerEngage internship.
Once their application is accepted students will:
Participate in 2 job interviews — 1 with ACEConnect staff & 1 with their potential internship placement in their area of industry & career interest
Complete 6 hours of Job Readiness Training before beginning their internship
Complete up to180 hours of paid internship work , $10.20/hr
Participate in a bi-weekly work skills evaluation process and receive information about their work habits and skills to continue their growth in their chosen industry & career path.